Ofer Barnea-Yizhar, P.hD.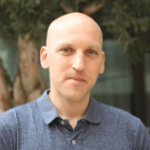 Ofer Barnea-Yizhar, P.hD.
Regional Manager - San Francisco
Ofer got his three degrees in three different institutes with three different orientations. Submitted his PhD (TAU, 2018) on the epigenetic blueprint of the inner ear hearing organ development. Moved in mid 2018 to the San Francisco area to assume a Postdoc position at the Ahituv group, UCSF. Ofer is focused mainly on assay development and applying massively parallel reporter assays to ask various question revolving the non-coding genome mode of operation. Ofer is advocating for developing to non-academic career and directs most of his efforts outside the lab towards this.