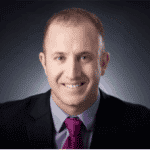 Mati Gill
Head of Government Affairs and Policy, Corporate HQ & Growth Markets Teva Pharmaceutical Industries Ltd.
Mati is the Head of Government Affairs and Policy for Corporate HQ and Growth Markets at Teva Pharmaceutical Industries, a global leader in generic and specialty pharmaceuticals that delivers high-quality medicines to 200 million people around the world every day. Mati previously served as Chief Operations Officer (COO) of the Teva Global Legal Group between 2011-2016 and serves as a member of the Board of Directors of Sanara Ventures.
He is also a licensed Lawyer and served as the Executive Director of the Australian Israel Leadership Forum. Until March 2009, Mati served as Chief of Staff of Israel's Minister of Public Security Mr. Avi Dichter, a position in which he was in charge of management of the Minister's public agenda and office, and advised on professional, political, communications and international affairs.
Mati is an active social entrepreneur in the Israeli community. He co-founded and leads the "Sanhedrin Forum" for young Israeli professionals. A reserve officer at the rank of Major in the IDF, Mati served as Operational Liaison Officer with United Nations Peacekeeping Forces in Lebanon and the Golan Heights and with the United States Army.