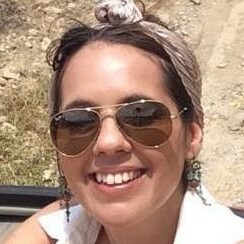 Noga Or Geva, Ph.D.
Regional Manager - Stanford
Noga loves all things that spark creativity and creates some positive impact – including Art, Travel, and Science!
She joined Postdoctoral life in 2017 at Stanford (Prof. Lawrence Steinman) where she started a new chapter of her science career dedicated to neuroimmunology after completing her Ph.D. (and MSc) in regenerative immunology in the field of Bone Marrow Transplantation at the Weizmann Institute of Science (Prof. Yair Reisner). In 2021 she completed her postdoc and stayed as a researcher at Stanford, working on bone marrow transplantation for neurological diseases and neuroimmunological psychiatric diseases.
Her husband (Tal), daughter (Gheffen), cats (Luli and Petal), and she, currently reside in an overpriced apartment in Menlo Park.
Noga joined as the regional manager of Science Abroad in 2017 and has nurtured the community at Stanford and the Bay area since. She welcomes any questions, or requests and is always eager to plan an event or help out the wonderful community!
In her spare time, Noga is a jewelry designer, sculptor, dancer, and somewhat of a travel addict.